Does My Baby Need Vitamins?
Jan 30, 2023
Good news! Babies receive almost all of their nutrients through formula or breast milk. Only a small amount of supplementation is needed. The following supplements are recommended by the American Academy of Pediatrics (AAP).



Vitamin D
What is Vitamin D and why does my baby need it?
Vitamin D is produced in our bodies when we are exposed to direct sunlight. It can also be found in some food sources such as liver, some fish and other fortified foods.
Vitamin D is important because it helps with calcium absorption for strong bones.
Supplementation is often needed throughout the lifespan since we spend more time indoors and wear sunscreen outdoors.
Babies do not get vitamin D through breast milk and should not be in direct sunlight, which is why supplementation is needed.
Recommendation for breastfed babies: Babies should be supplemented with 400 IU of vitamin D daily starting shortly after birth until they begin drinking fortified whole milk at age one.

Recommendation for formula fed babies: Most formulas should have Vitamin D in adequate doses. If your baby is taking at least 27 ounces of formula per day, you do not need to give supplements.
Iron
What is iron and why does my baby need it?
Iron is a mineral found in many food sources that is essential for healthy red blood cells. Iron is also needed for the growth and development of your baby.
Full term babies have enough iron stored to last for 4 to 6 months, but then require supplementation to prevent iron deficiency anemia and promote healthy growth.
Iron is not transmitted in breast milk.
You can choose iron-rich foods once babies are ready to start solid foods such as pureed meats, peas, and broccoli.
All babies should be screened for iron deficiency at their 9 or 12 month well child check.
Recommendations for breastfed babies: The AAP recommends iron supplementation at four months of age at a dosage of 1mg/kg/day. Your pediatrician can guide you about stopping iron supplementation.

Recommendations for formula fed babies: The AAP recommends finding a formula that has between 4 to 12 mg of iron and continuing that for the baby's first year of life.
Fluoride
What is fluoride and does my baby need it?
Fluoride is a mineral that occurs naturally in the earth. Fluoride protects teeth from decaying and cavities.
Recommendations for breast fed and formula fed babies: Babies should not receive supplementation from birth to 6 months. At six months, all babies should be supplemented with 0.3 parts per million if your local water supply is not fluoridated.
Multivitamin
Does my baby need a multivitamin?
Multivitamins are generally not needed since babies get all the nutrients they need from bottle feeding or breastfeeding.
Your baby may need extra if they are premature. Consult with your pediatric provider before offering a multivitamin.
>>> FREE GUIDE: Add FLAVOR and NUTRIENTS to your baby's food. Click here. <<<
If you ever have questions about what kinds of supplements you should be giving your baby, please reach out to your pediatric provider. They will be able to guide you to ensure your baby is getting what they need.
*This post may contain affiliate links. If you purchase using my links, I get a small portion of the money which helps me offer you free content.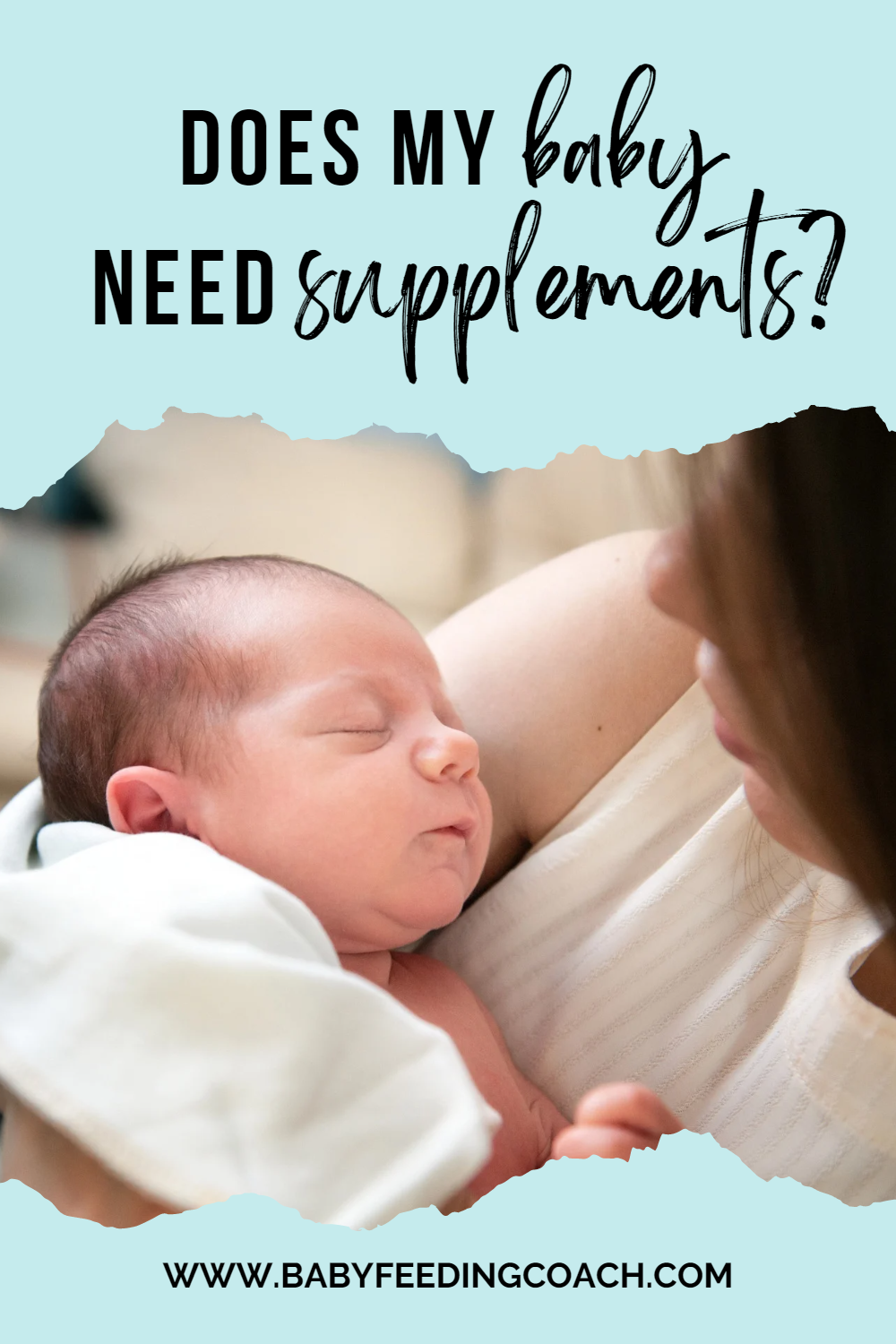 Have questions about starting solids?
I have you covered! Starting Solids 101 is a self-paced digital course that goes over ALL of your solid questions.
BLW vs purees
How to assess your baby's readiness
What, how much and when to offer solids
Introducing allergens
Choking vs gagging
Bonus: Starting cups and drinks
Get it now
Looking for more solids information?
Join my mailing list to receive a FREE guide with sample schedules for 4, 5, and 6-month-olds straight to your email.
We hate SPAM. We will never sell your information, for any reason. Opt out anytime.